When dealing with large flexible spaces, sometimes the best option is to mix and match different types of operable wall systems. This could be for a variety of reasons – different aesthetics, privacy, egress, limited overhead space, etc. Skyfold has the flexibility to work with traditional operable wall systems to give you the best possible design for your space.
When intersecting with a traditional operable wall in the same space, not all Skyfold models will work the same. Contact your dealer to determine what can be done. Our team of engineers have had to be very creative over the years in coming up with design unique solutions. Like a puzzle, Skyfold can fit the pieces together for a seamless design.

Skyfold Intersecting a Traditional Operable Wall
A common scenario is a Skyfold wall intersecting a traditional operable partition, thereby sub-dividing a space. When Skyfold needs to seal against this type of partition, the partition must be equipped with a filler panel. This is due to the width of the operable wall track being thicker than the operable wall itself. To fill this gap, a filler strip is attached to the horizontal wall, must then be in position before Skyfold can seal against it. This filler panel ensures no leaks of light or sound.
Modernfold, our sister company, is the exception to this rule. We do not require a filler strip to seal against a Modernfold because their hardware allows the drywall around it to line up to the face of their panels, allowing for a much cleaner finish where the walls meet at a 90-degree angle.
When Skyfold seals against glass, the same rule applies: we must have a flush surface to seal against. A mullion (filler strip) is installed so that the glass is flush with either the framing or the windowsill (see example below).
A Traditional Operable Wall Sealing Against Skyfold
Another type of scenario is when a client wants Skyfold to initially divide a space, then have a traditional operable system sub-divide it. In this case, the opposite needs to happen, where that partition will have to seal against Skyfold. When a traditional operable wall seals against Skyfold, their ceiling track must be higher than our top of pocket so it can seal seamlessly. In order for the other system to seal against Skyfold, our pocket will have a small gap. The Skyfold wall must be in the down position for the traditional wall to close against it. As you can see below, the traditional operable wall seals against Skyfold within our pocket.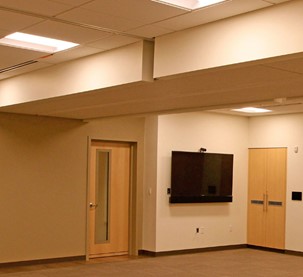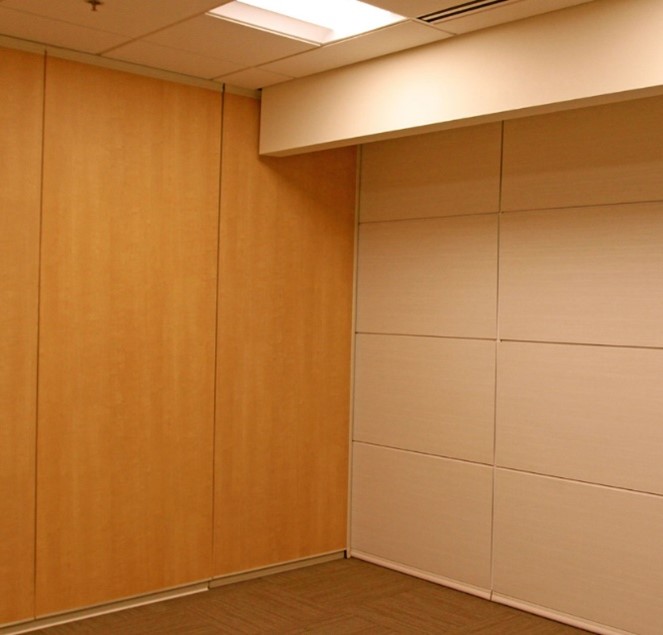 Oftentimes, Modernfold and Skyfold work together and get creative. In one case, there was a project where a Modernfold wall was sealing against Skyfold, but both walls had the same finished ceiling height. Modernfold was able to create a filler panel in the Skyfold pocket area so there were no gaps to hinder the acoustics in the room.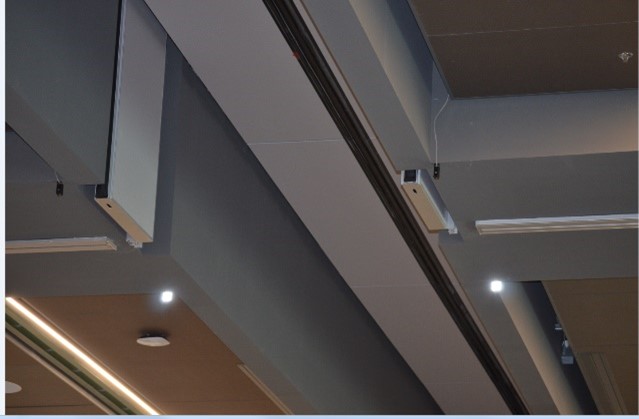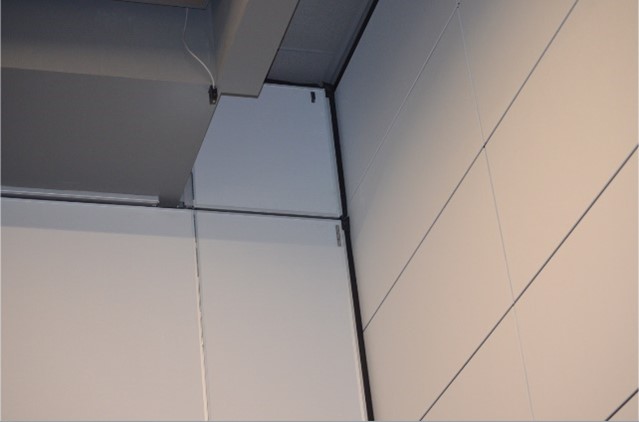 What About Pass Doors?
Skyfold works well with traditional operable walls not only in intersection scenarios, but in egress designs as well. Since Skyfold can't offer egress solutions due to our vertical fold, it enlists the help of one of its sister companies to create a door with framing that can blend in with Skyfold's design while being able to properly seal against one another. There are many options for an egress scenario. For more information, please visit our other blog post, titled EFFECTIVE SOLUTIONS WHEN YOUR SKYFOLD WALL NEEDS AN EGRESS DOOR.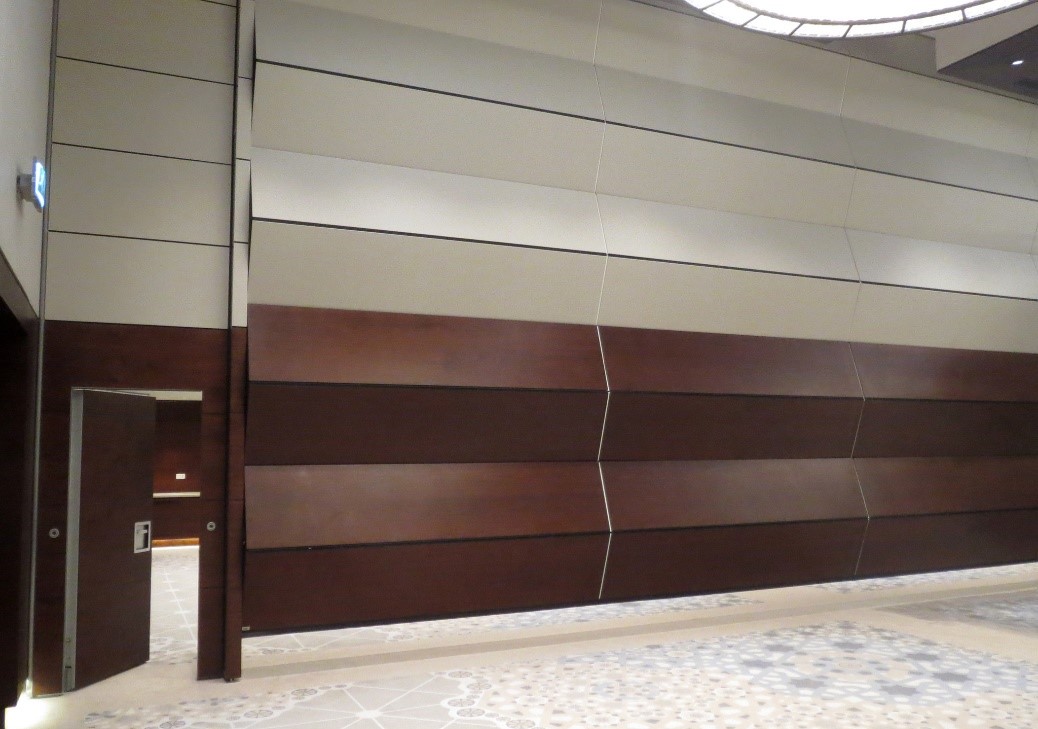 There are multiple ways to match Skyfold with traditional operable walls that will enhance the flow of your space and give you the flexibility that you crave. With Skyfold's team of creative engineers and consultants, we can make your vision a reality.