Natural light creates well-being
Recent studies show that exposure to light can be directly linked to wellbeing—and providing it be the hallmark of success for any designed space.
Their findings demonstrate that light exposure not only improves mood, it can reduce symptoms of depression—and even shorten medical recovery times by speeding healing up. On the other hand, when exposure to light is reduced, there can a measurable onset of both depression and cognitive function.
What that means for all designed spaces, and especially office environments, is clear: better views and brighter light equal better performance.
WELL™ Building Standard
Responding to this research, an internationally recognized rating system called the WELL™ Building Standard was launched in 2014 to measure how the construction of a building, and everything inside, can improve the comfort, productivity, health, and wellness of its occupants. With guidelines focused on mental wellness, physical health, personal comfort, and the environment, points are awarded for how well a construction meets these standards--and buildings that achieve a certain level earn a WELL™ Certification.
Of course, the importance of good light is something architects and designers have always known. Good exposure to light, and natural light best of all, has always been essential to quality construction.
When designing any space, Skyfold's Mirage® acoustic glass system delivers that—and more.
Skyfold's Mirage® optimizes light exposure
With light able to travel effortlessly through its vertical operable wall, not only is visibility and exposure to light improved, superior acoustic privacy is also maintained at the same time—a quality that allows architects and designers the freedom to create open spaces for any purpose with all the benefits of natural light.
It doesn't stop there.
Skyfold's Mirage® vertical operable wall is also practical, automatic, adaptable—and very easy to use.

Fully automatic
The Mirage®'s fully automatic wall can create private spaces or open space concepts at the touch of a button. The elegant wall simply folds up and disappears into ceilings seamlessly, without the necessity of floor tracks. With this kind of flexibility, open and welcoming environments can easily be created in places as diverse as corporate, education, and hospitality venues, sports facilities or airports.
A Mirage® wall further helps provide the perfect setting for bright, sophisticated and welcoming spaces with its clean lines, lightweight structure, a wide range of glass and plexiglass panels, customizable frame colour finishes, high-efficiency acoustic seams, and ease of maintenance. And the frame colour options are endless. Choose a colour, and we will match it. Feel free to get creative!
Architects and designers rely on Skyfold's Mirage® wall to:
conserve floor space by retracting into the ceiling;
ensure good acoustic quality;
deliver fully automatic functionality;
provide easy-to-use turn-key or keypad operation;
operate quietly;
be lightweight and flat, yet rigid;
offer a wide variety of glass and plexi-glass options to meet any design needs;
arrive already equipped with an infrared safety system.
The details:
Acoustic Rating of System: STC 33 (Rw 33)
Maximum size: Unlimited length x 7,315 meters in height
Unlimited length x 24 feet in height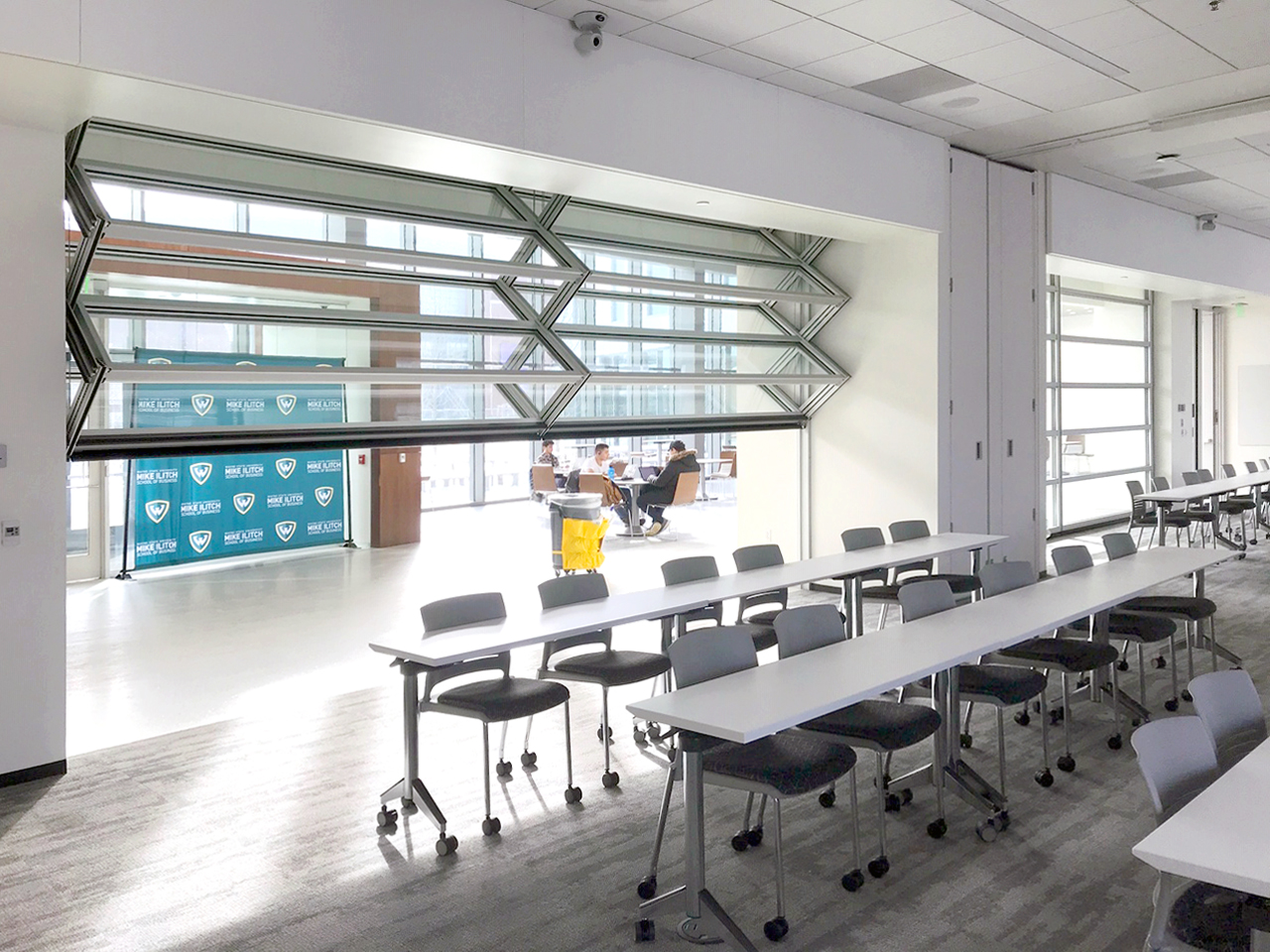 Adaptable to any space
The Skyfold Mirage® retractable wall can be used in any space, no matter how large or small. When sub-dividing an area, this glass partition offers an STC of 33 (RW 33), and finish options like frosted glass help create rooms that feel airy and connected—but still private enough for meetings, get-togethers, classes, or people just working on their own. The Mirage® glass panels can also be combined with solid panels to which fabric, vinyl, paint, plastic laminate, wood veneer, and markerboard can be applied.
Choose the Skyfold Mirage® solution
With good lighting fundamental when designing optimal spaces—and natural light essential for the well-being of the people who use it—Skyfold is committed to helping architects and interior designers create more sustainable buildings and spaces where people and the community thrive.
So when creating any space, rely on the Skyfold Mirage® retractable wall for ease in integrating that all-important quality of natural light. After all, lighting strategies focused on improving mental wellness, health and comfort can only lead to healthier, more productive environments for everyone.
Let there be light!