Skyfold Classic™ 51 converts floor area from a service corridor into functional space for this ultra-modern, high-tech Fairmont Pacific Rim Hotel in Vancouver.
THE RENOVATION
Capturing back-of-house hotel space for front-of-house use is no easy feat. Yet, that's what a last-minute retrofit achieved in a clever reworking of the award-wining design of the Fairmont Pacific Rim, a five-star hotel featuring modern interiors. A brainstorming session for increasing floor area and flexibility of the function rooms led to the idea of opening the walls to a shared service corridor and kitchen to expand the hotel's popular ballrooms.
Two ballrooms—one large and the other small—were originally separated by the corridor's fixed walls. The new layout called for a demolition of the walls to make it one grand space. The Skyfold Classic™ 51 vertically folding retractable wall was installed at the midpoint of the former corridor. As a result, the hotel gained the flexibility to have a supersized ballroom with the Skyfold wall up, or two adjacent function spaces with the wall down (and that are each about 3.5 feet wider now).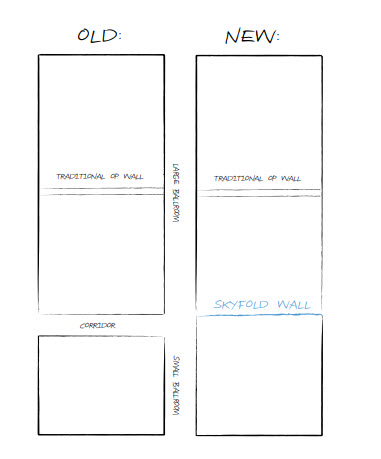 ACOUSTIC PERFORMANCE
In other Fairmont locations, the hotel chain is using two traditional operable walls installed in parallel to achieve acoustic separation between event and meeting spaces, a solution that eats up valuable floor space. In their Vancouver Pacific Rim hotel, the Skyfold solution is a single, 12-inch-thick operable partition that meets and exceeds their acoustic requirements.
FUNCTIONALITY
The 16-foot tall and 56-foot long Skyfold wall takes under three minutes to retract into the ceiling or deploy into place. With no floor or wall tracks and an overhead ceiling pocket, there is no evidence of an operable wall when its tucked away in storage. Skyfold's overhead ceiling storage also means that there are no cumbersome closets (typically used for traditional horizontal operable partitions), freeing up even more floor space to increase venue capacity and revenue.
Its all-electric and simple turnkey operation system requires little maintenance and is easier to operate than manual operable partitions in their other locations, requiring less staff and less time to configure their ballrooms.
The space management solution in the Fairmont Pacific Rim has a modern appeal and provides the hotel with new ballroom packages for their clients. The hotel is now able to promote a large grand ballroom—something they didn't couldn't do before.
PROJECT SPECS
Location: Fairmont Pacific Rim, Vancouver, BC
Real-Estate Developer: Westbank Projects Corp.
Exterior Architecture: James KM Cheng Architects
Interior Architecture: B+H CHIL Design
Local Supplier: Vertical Solutions Inc.
Model: 1 Classic™ 51
Size: 55'1" x 15'11" (16.53m x 4.533m)
Finish: Vinyl (Koroseal Excess Vicuna)
Installation: February 2012