Congratulations! You've decided that Skyfold is the right solution for your space: you have taken the measurements, you have selected the best model for your space, and now it's time for the fun part…dressing it up!

Skyfold walls are not only supremely practical and functional, they also have the power to create a whole aesthetic in any room. Much like designing the interior of a home, the use of colors, textures, lighting, and functionality really matters—and choosing the right finish can only further enhance and optimize the sense of harmony in your new space.

With Skyfold walls offering an unlimited number of available finishes, you can make this created space as unique as you envision it to be.

Fabric
If a fabric finish is your choice, Skyfold's chosen standard is Dune 4505, widely available in 26 colors. Dune is not only durable and attractive, it is designed and manufactured specifically for recyclability and may even contribute to LEED certification.
Skyfold also offers an upgraded fabric collection of seven Carnegie Xorels. Xorel yarn's superior properties make it incredibly durable while also being inherently stain resistant, colorfast, antibacterial, and non-absorbent. For light color fabrics, the panels are first pre-painted white before the application of the fabric at no additional cost.
Both of these standard fabrics are acoustically transparent so they can be used on NRC panels—though you should keep in mind that when choosing fabric for an NRC wall, panel perforations may show through a very light color fabric. NRC panels cannot be pre-painted.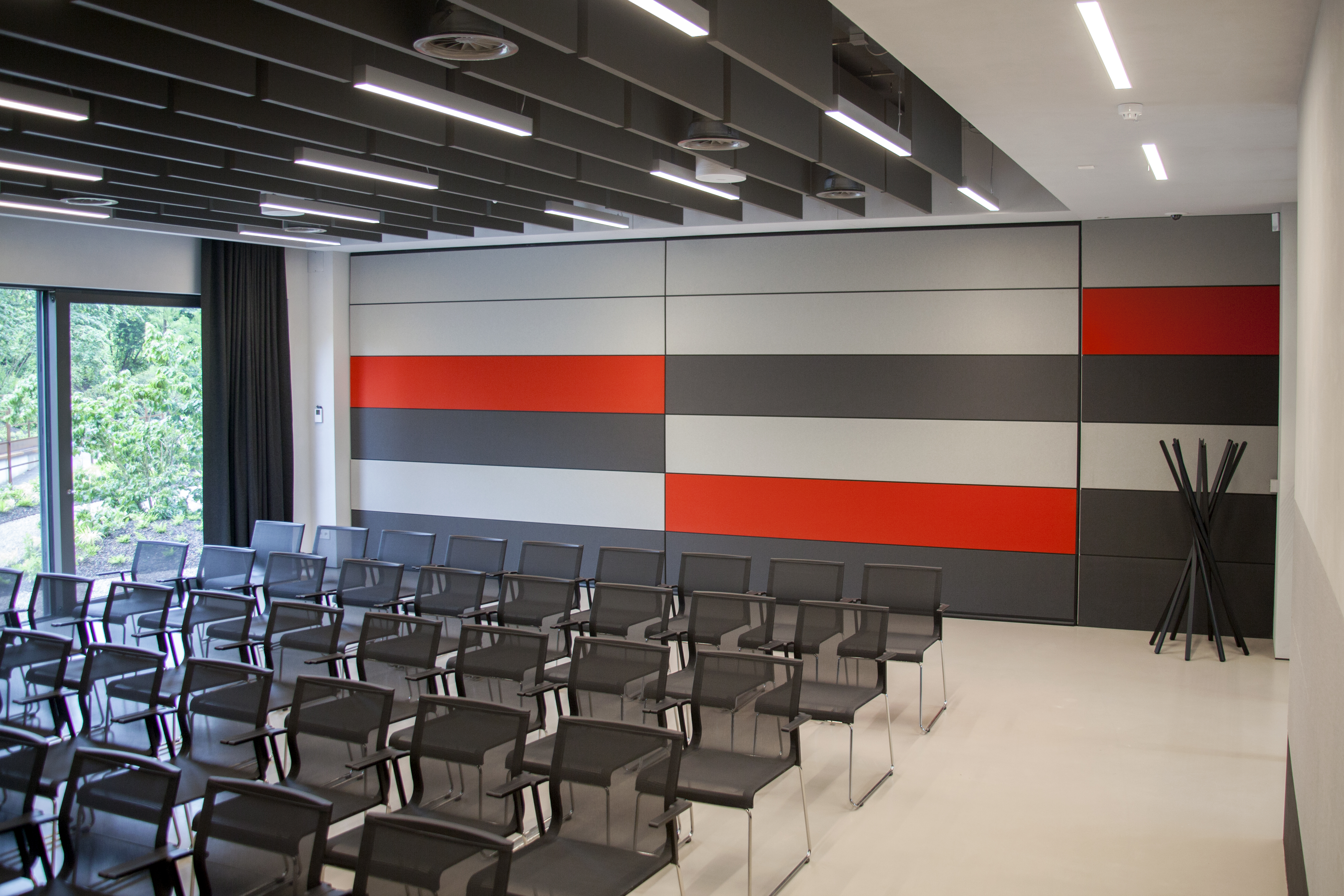 Vinyl
If a vinyl finish is more to your taste, Skyfold offers a large selection of standard vinyls in 50 different colors, patterns, and weave directions. Applied the same way as fabric, vinyl finishes wrap around the edges of the panels. Just don't forget that since such finishes are always railroaded on to our panels, you must turn the pattern 90° to see how the finish will appear on your wall.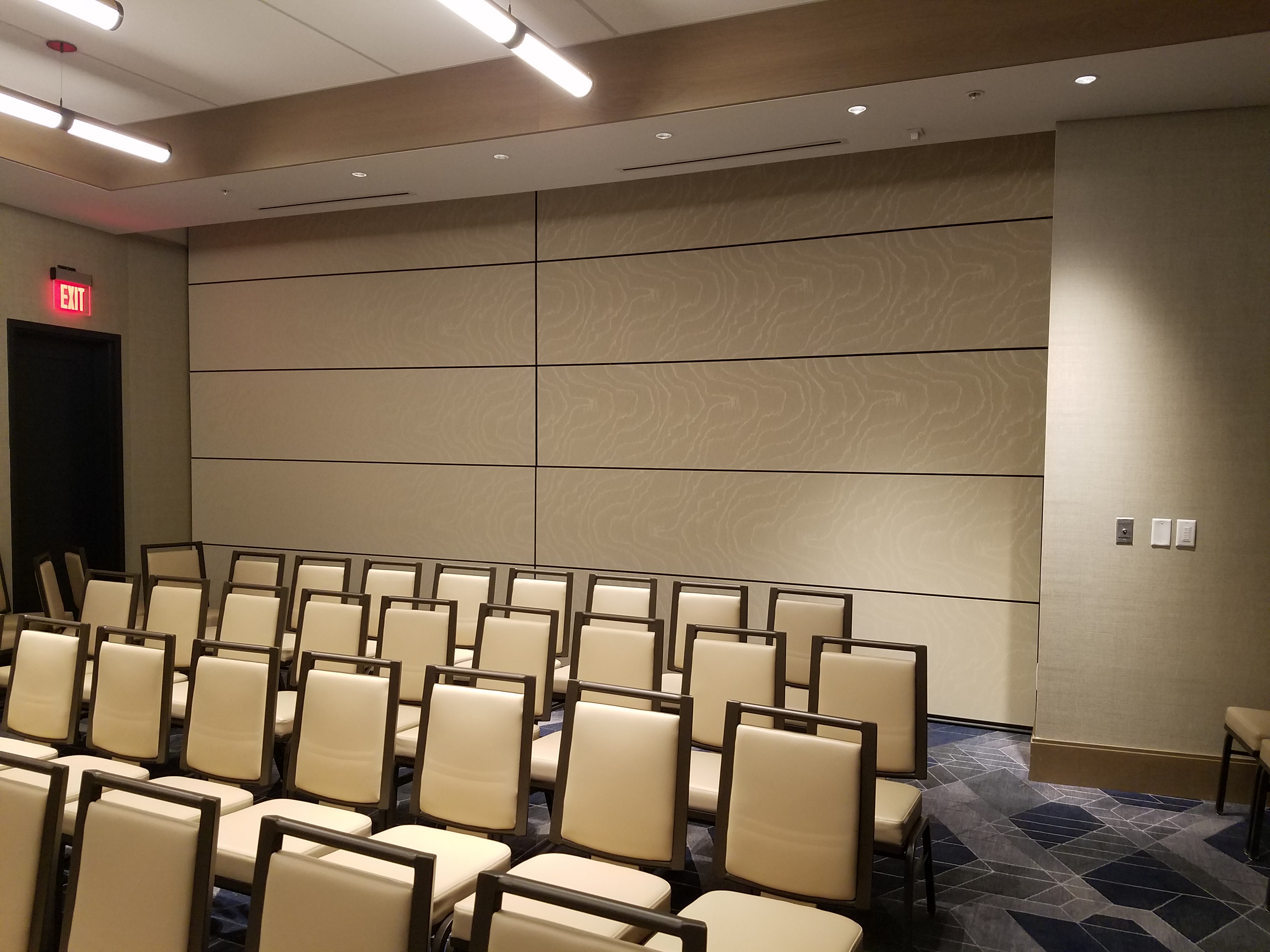 Paint
If you decide you'd like to paint your Skyfold wall a specific color, we've got you covered! We can match any custom color you choose, whether it's from a paint company, RAL number, or a color chip. If you decide to keep things simple, we have our standard five Firestone colors and 29 non-standard Firestone paint colors to choose from as well. The painted steel replaces the non-finished galvanized steel face sheet, so your paint choice will be "wrapped" around the sides of the panels. An additional plus is that we use powder coat paints, providing a strong, durable coating without any of the environmental concerns of a solvent paint process.
Markerboard
The Lampre® Laminite™ markerboard finish works in much the same way as a paint finish: the panel face sheet is replaced and the markerboard finish wraps around the edges. Dry erase markers can also be used on the markerboard, adding more functionality to spaces like schools and offices. If you decide that you don't want an entire wall made out of markerboard, you can choose—and this is an extremely popular choice—to use it as a functional accent row or rows when mixed with other finishes.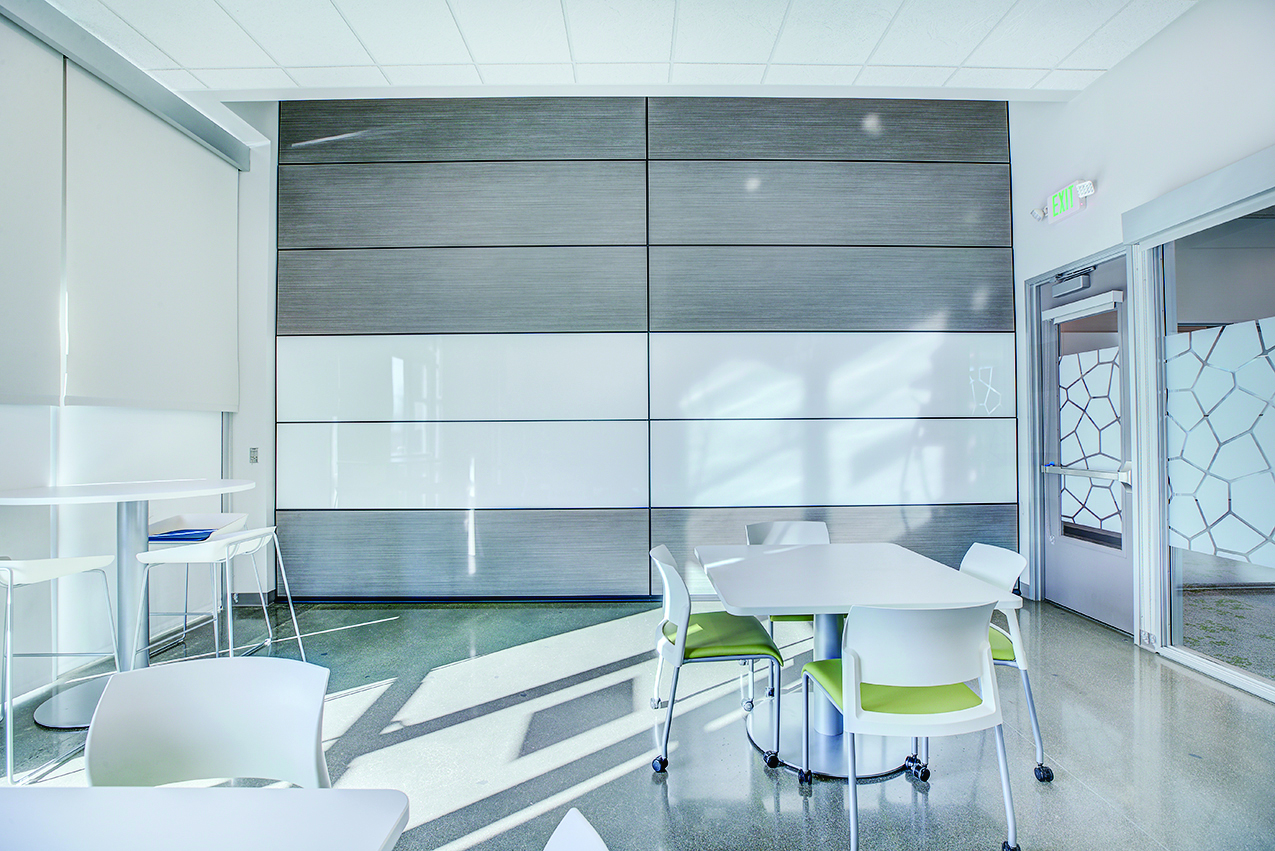 Painted Imitation Wood Veneer by Lampre®
Perhaps you're hankering for a natural wood look but don't want the added weight of plastic laminate or the high cost of wood veneer. Skyfold can provide five types of non-writing Lampre that offers exactly the lightweight look and feel you may be looking for. Our paint imitation veneer by Lampre comes in six popular wood "looks" to choose from: Cherrywood, White Oak, Cherry Tree, Medium Oak, Walnut, and Mahogany.
Plastic Laminate
With a plastic laminate finish, Skyfold offers two standard HPL plastic laminates from Panolam: Nevamar (ARP-T finishes only) and Pionite (textured/suede finishes only). Our large plastic laminate pattern catalogue includes solid colors, wood grains, marble, textiles, patterns, stone, and more. Patterns are always being added (and some discontinued), so for the latest full product catalogue, you can visit the Panolam website—and don't forget that since finishes are always railroaded on to our panels, you must turn the pattern 90° to see how the finish will appear on your wall. Also, remember that these are rigid face sheets, so the panel edges will be black vinyl. Whatever finish you decide upon, keep in mind that plastic laminate is the heaviest finish for a wall and that more horsepower might be required to lift it.
Wood Veneer
If you love an organic, natural look, you might want to try a wood veneer finish. Don't forget, however, that no two pieces of wood veneer are ever the same in grain and colour, and that even veneer taken from the same log may exhibit texture changes from slice to slice. This is simply an integral aspect of wood and is what gives it its charm, warmth, depth, and richness. A wood finish for your wall would require the most planning in advance. Not only must you select a type of wood, you must also think about the type of cut you want, the grain orientation, the type of sheet matching, the type of panel placement, and the stain color. However, the end result will be well worth it. If you have the flitch number of a specific log you would like to use, our veneer supplier will procure that log and assemble the veneer sheets to our specifications.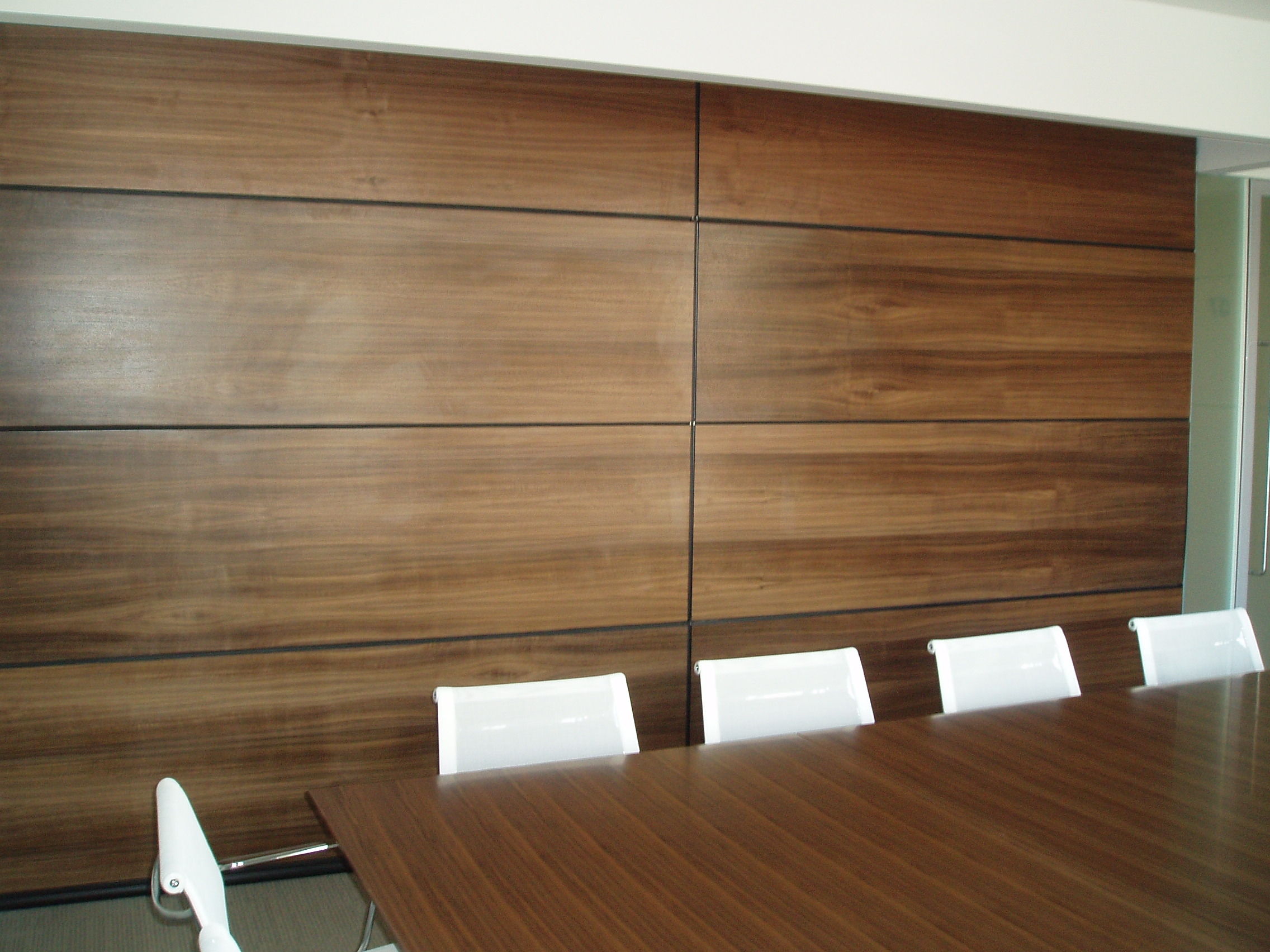 Specialty Finishes
Skyfold can also apply finishes that are highly unique and geared to make your project really stand out. If you're looking for an industrial look, for example, we can offer two types of stainless-steel: #4 and #8. The #4 is a brushed stainless-steel finish that is easy to clean and looks super sleek, while the #8 has a mirror-finish. Due to its reflective nature, it may require a bit more cleaning maintenance, but like traditional mirrors, it can make a small space look much larger.
Graphic murals can also provide an impactful option for a statement wall. You can find more information on choosing a graphic mural in our blog entitled A Picture Can Be Worth a Thousand Words.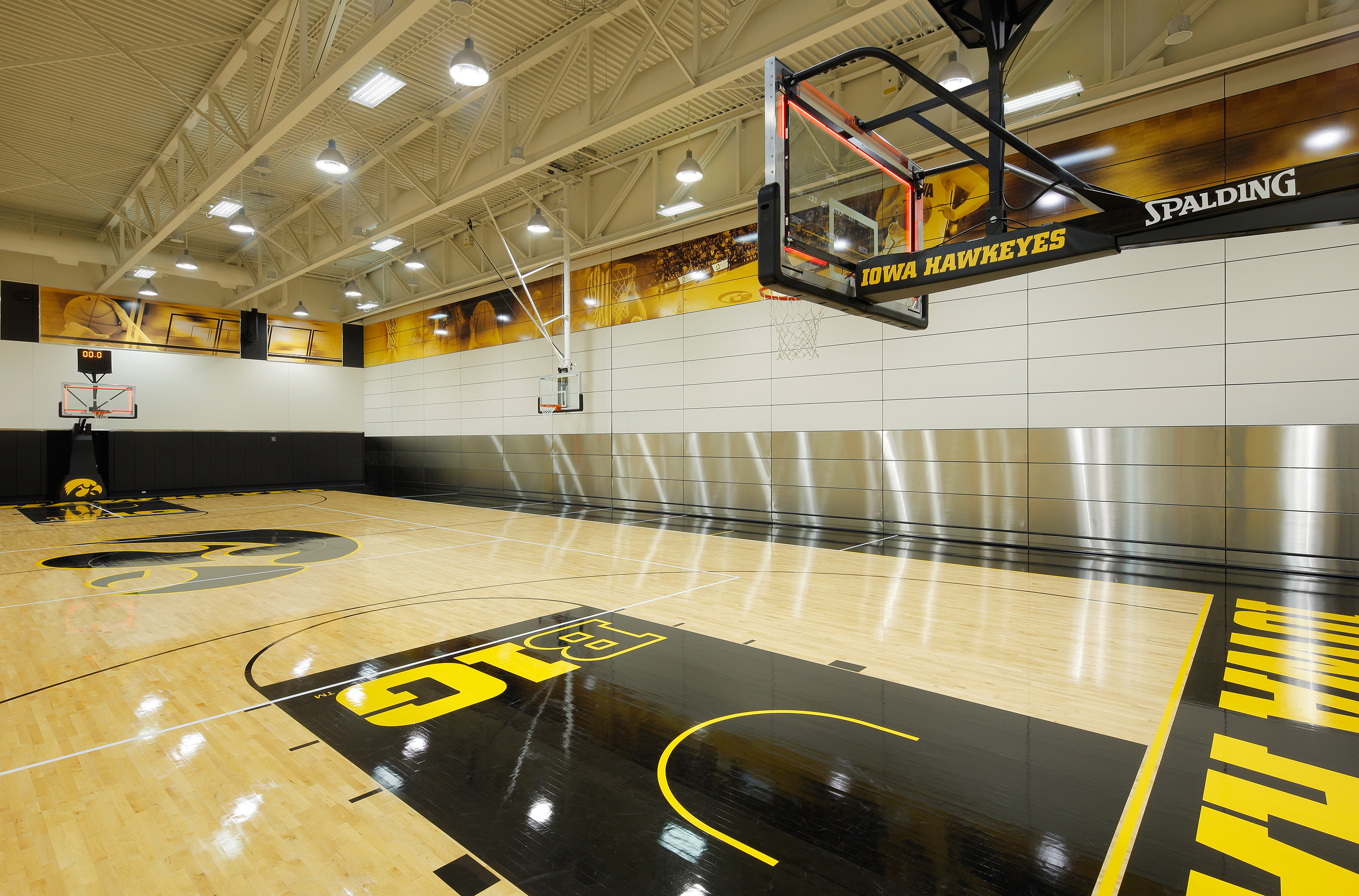 Finish Requirements
All that being said, it's important to know that you aren't limited to just our standard finishes! Skyfold will test any finish you wish to use. As long as it meets our requirements, any chosen finish can be applied to your panel. Whether it's silk, recycled leather, specialty metals, or reconstituted wood, we've used them all—and more.
To test if a finish can be used, we first obtain a sample from the supplier and apply it to a small sample panel. If it adheres well, passes inspection, and looks good, it's approved—rest assured that Skyfold will never approve a finish that doesn't look perfect and meet your high standards and expectations.
To save you time, here is what cannot be applied to a Skyfold wall:
• A wrap-around finish thicker than 1/25" (1mm);
• A rigid finish applied to the panel face that is thicker than 1/8" (3mm);
• Any substance that is brittle;
• Finishes should not have a backer (some exceptions, like Osnaburg, are usually acceptable though);
• Only acoustically transparent fabrics can be applied to an NRC panel.
If a customer wants to supply their own finish, we can accommodate that as well, as long as a sample can be provided and Skyfold approves it. We refer to these finishes as COM (customer supplied material). With a COM finish, the customer is responsible for procuring, purchasing and shipping the material to us for application as we never recommend trying to apply a finish yourself.
The finishing touch is waiting for you
Take your time and have fun perusing all of the finishes available to you. Go ahead and mix and match. Play with colors, textures and patterns. Picture your new space with all of its possibilities.
Because any look you envision is just waiting to be achieved with Skyfold operable wall finishes.
*Disclaimer: Finishes are subject to change. For the most up-to date finish information, please refer to your local dealership