The changing workplace and flexible space design
For years, critics have been forecasting the decline of the "open concept" office. Criticized for dips in productivity or just general unhappiness, open concept workplaces have not proved to be a resounding success.
But the corona virus pandemic, and its mandated stay-at-home work life, is providing a whole new opportunity to look at how we work, and how we can identify the types of environments in which we thrive.
What with flex hours and flexible work weeks now a standard of working remotely, the word "flexibility" has become a catchword during COVID -19, and "flexible office space" may just be one of biggest long-term changes coming to the workplace. It's essentially a design compromise between open concept and enclosed plans, and is shaping up to be future of workplaces everywhere.

What is flexible space?
Flexible space is the creation of dynamic, versatile, and custom spaces through the use of structure, movable walls or partitions, design and furniture to reflect the changing needs of the people who use the spaces.
In offices, a flexible space can provide users with a variety of work settings: collaborative open areas, enclosed meeting rooms, quiet zones, individual workstations, and informal areas that are all adaptable and multipurpose, serving a wide variety of activities.

How the pandemic is changing office design
Architects are increasingly looking at how the pandemic, even beyond its physical distancing and hygiene measures, is transforming office designs in this way.
Recently published results from a US survey conducted in April on employees working from home revealed that, although most respondents had a positive reaction toward working remotely, what they missed most about the office was the ability to collaborate and socialize in person. Pundits are now predicting that this realization will produce a surge in "non-traditional" working areas as employees gravitate toward collaborative spaces beyond the traditional conference room.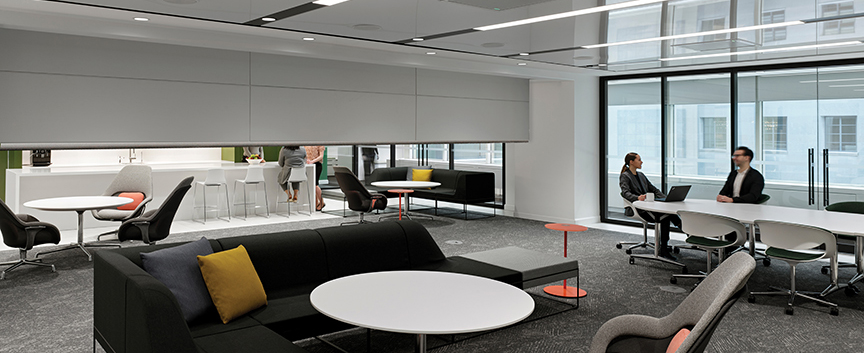 Movable walls create flexible workspaces
Introducing movable walls into offices is one way to meet the demand for more collaborative, "intentional" spaces.
With the use of movable walls within or between adjacent meeting rooms, traditional conference rooms can be transformed into spaces adaptable to varying group sizes and uses. What was once one room can be reconfigured into separate areas. When designed strategically, multiple movable wall configurations can create even more intimate meeting rooms that optimize every square foot of a floor plan.
As with many of these systems, Skyfold® included, acoustically rated panels further ensure that areas separated by movable walls can be used without noise disruption, making each space a highly productive area to work in.
Movable walls easily create non-traditional working areas that have specified needs. By replacing a fixed wall with a movable wall, even a hallway space can become a usable working space with the right furniture and integrated technology. In-office cafés and break-rooms that are sub-divided or enlarged can become ideal areas for small meetings, teamwork or social interaction. Boardrooms can be sub-divided into multiple meeting rooms. Conference rooms can expand into open areas. Atriums can become lecture halls. The flexibility afforded by movable walls means any space can become any one of these things—at any time.
With automated movable wall solutions like Skyfold®, employees can easily control and adapt the spaces themselves throughout the workday to suit needs and preferences—two important benefits which are the hallmark of effective flexible workspaces.

The changing workplace
For offices looking to provide non-traditional, more "intentional" meeting spaces, the change to a future of flexible workspace has already begun.
The ability to provide employees with a variety of spaces that reflect their individual work styles and those of their team—spaces that are versatile and dynamic where they meet, (re)connect, and work together—is simply the newest hot trend for the office.
All while keeping a good distance, of course!