Do open floor plans kill productivity? What if we tell you that it's not open concepts that kill productivity, but rather open concepts without acoustic design? Although these spaces facilitate collaboration, noise distractions pose a serious challenge to productivity and wellbeing. The good news is that there is a slew of innovative design products you can add to these spaces to rectify this issue.
What is Acoustic Comfort?
Open concepts and flexible spaces are great design practices for offices and schools looking to make their spaces more dynamic. These spaces are often fitted with hard surfaces, like glass walls, metal furniture, painted hard ceilings, and polished concrete floors. There's no doubt that these elements create beautiful and contemporary designs, but they also reflect a lot of sound. As sound rides on air and comes into contact with every single material in a room, it creates echoes, reduces intelligibility, raises noise levels, increases stress, and reduces productivity. In short, sound in open spaces becomes noise.
Acoustic comfort is not something you'll notice, but you'll definitely notice when your surroundings are acoustically uncomfortable. Acoustic comfort is the result of mindful room construction and design that uses materials and products to create distraction-free and productive indoor environments.
8 Design Solutions for Acoustic Comfort in Flexible Spaces
Acoustic comfort in a space can be achieved not only through construction, but also through interior design. We've compiled a list of 8 innovative acoustic interior design solutions to add to your flexible space that are as beautiful as they are functional:
1. Operable Partitions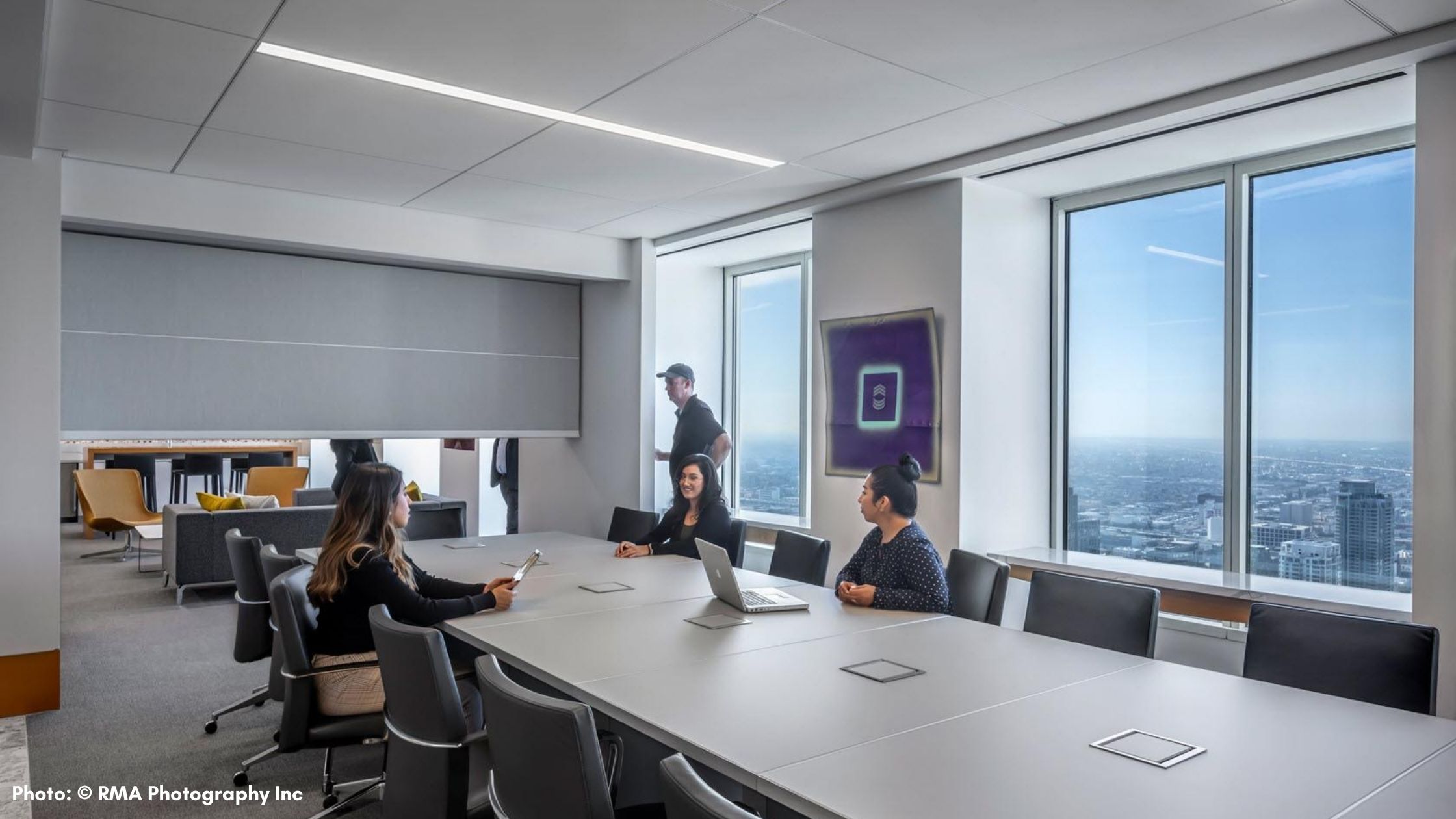 Skyfold Zenith® Series in corporate meeting room. Photo © RMA Photography Inc.
You may know of operable partitions as practical room dividers, but many operable partitions on the market also have acoustic properties that can reduce the amount of noise transmitted into an adjacent space. Some of these products offer acoustically transparent fabric as a finish option, which helps to absorb noise, reducing the amount of sound that is reflected back in the space and transmitted into an adjacent room. According to David M. Sykes, PhD, overhead conversation is one of the leading causes for distractions in the workplace. These distractions can be reduced in spaces that are subdivided by acoustic operable partitions.
While there are plenty of options for operable partitions, only a few have strong enough acoustic properties to truly improve the acoustics in your space. If acoustic comfort or privacy is a main concern for your flexible space, consider selecting an operable partition with sound transmission coefficient (STC) ratings within the mid-50s or 60s, or systems with noise reduction coefficient (NRC) ratings of up to 65%. It's also important to check an operable partition manufacturer's sound tests to verify that the entire system is acoustically rated, and not just the panels.
With finish options ranging from fabric to markerboard, these operable partitions are also unique design pieces in your space.
2. Acoustic Tiles (Walls & Ceilings)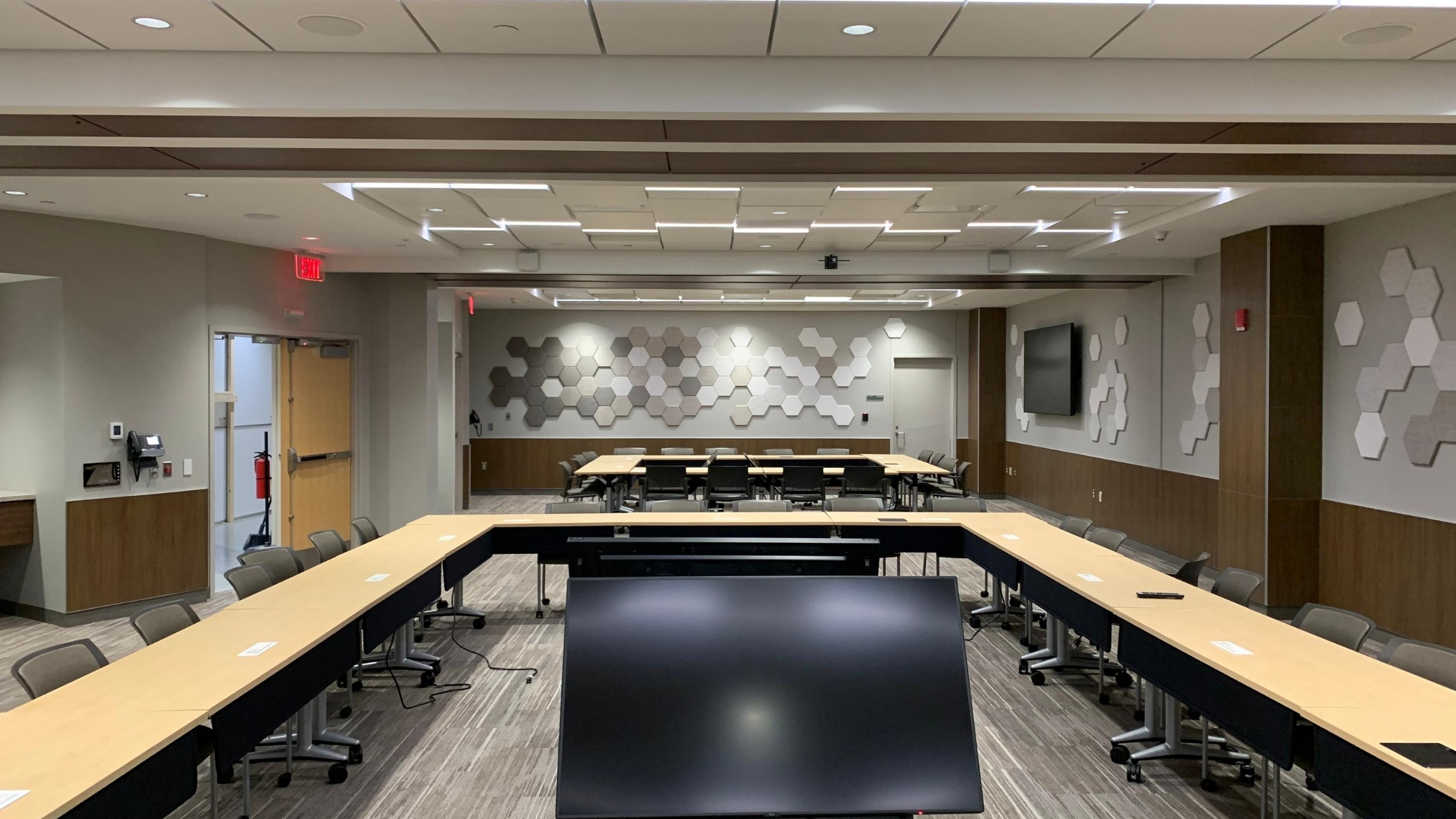 Hexagonal acoustic wall tiles with two Skyfold Classic™ operable partitions recessed into the ceiling. Photo from Skyfold.
Acoustic tiles are having a moment. They're made of absorbent material and installed on walls and ceilings. Without these absorbers, noise would reflect off these surfaces, causing flutter echo and increasing reverberation, which could harm occupants' ability to understand one another. Companies like Abstracta, IDEATEC, and TURF Design have transformed these highly practical elements into beautiful wall decor by fabricating acoustic tiles into various shapes, colors, and textures to be installed in playful and creative patterns on your walls and ceilings.
3. Ceiling Baffles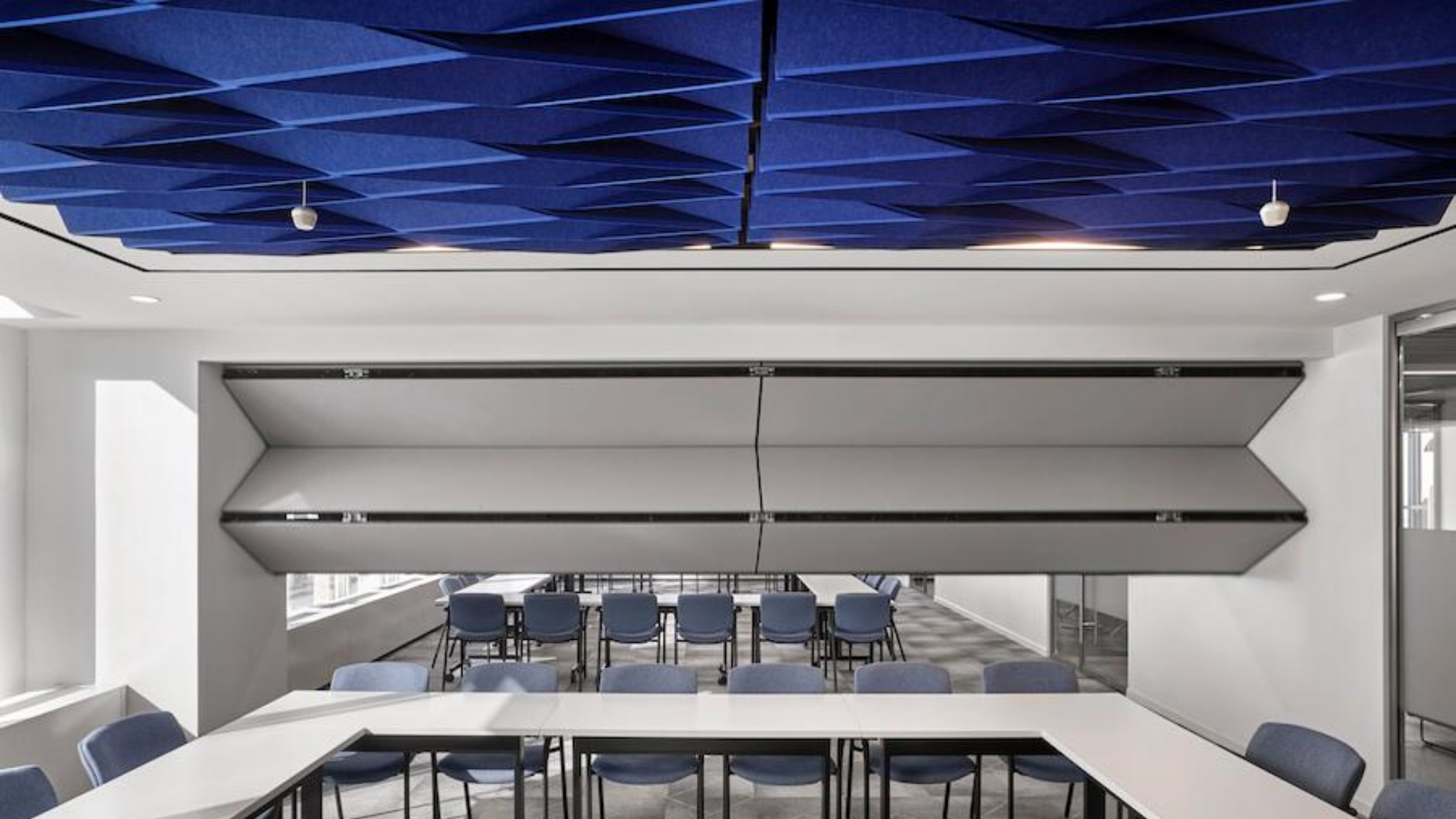 Custom blue acoustic ceiling baffles in office meeting room subdivided by a Skyfold Classic™ operable partition in STC 51. Photo Credit: MKDA (with permission)
Acoustic ceiling baffles bring dimension and intrigue to your ceilings and are ideal for more expansive areas. Baffles, like those made by TURF Design, are available in a variety of patterns and colors and are made with up to 60% pre-consumer recycled PET felt. LED lighting can also be incorporated into the baffles. Acoustic baffles will help to reduce echo and diffuse noise from travelling throughout your flexible space, while also imbuing your ceiling with visual impact.
4. Acoustic Lighting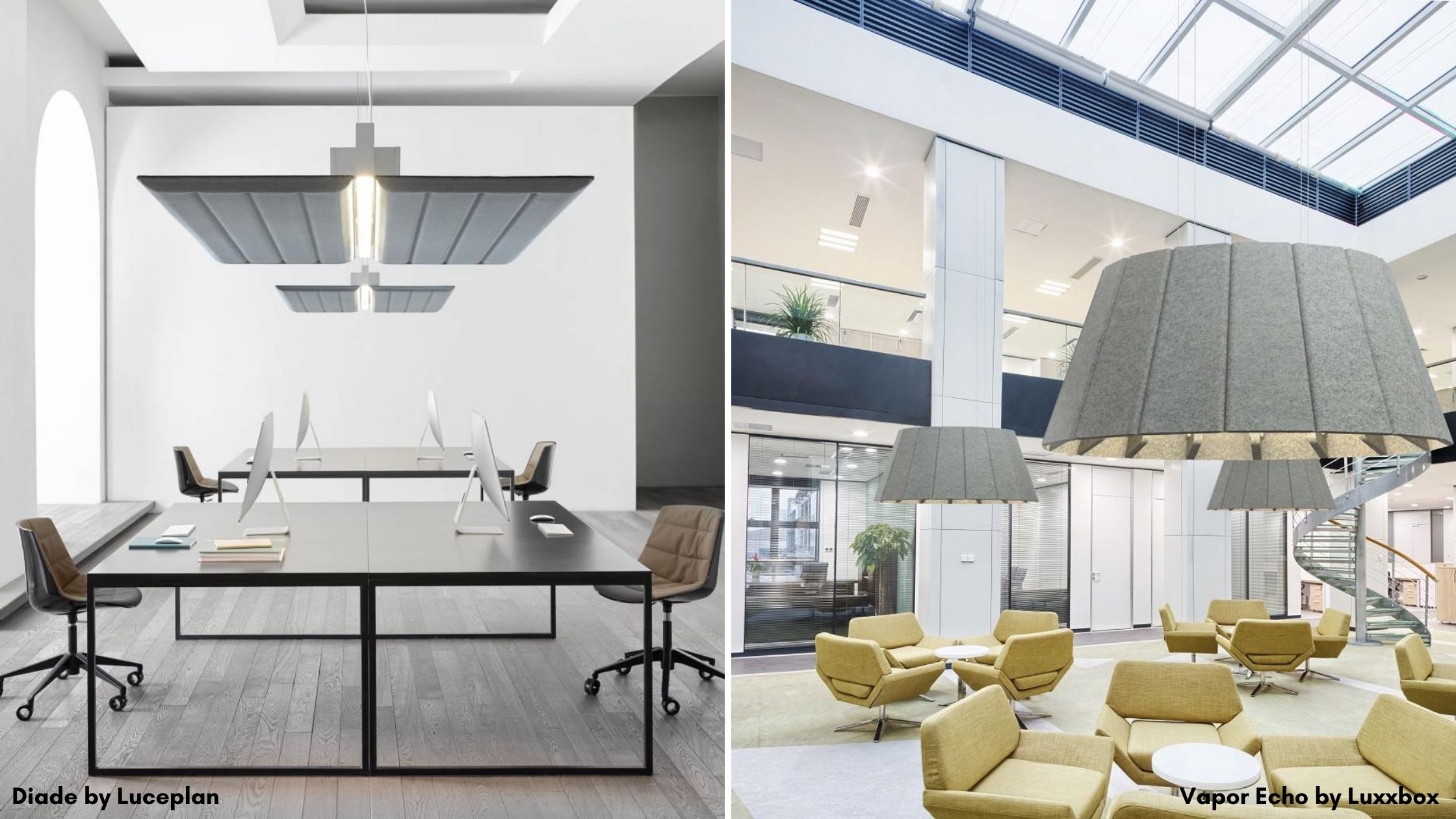 Photos of Diade (Luceplan) & Vapor Echo (Luxxbox) acoustic light fixtures provided by LumiGroup (with permission).
Speaking of ceiling intrigue: ceilings too high, floors too polished? Companies like Eureka Lighting, Luxxbox, and Luceplan offer eye-catching suspension lamps padded with acoustic absorbent material to reduce reverberated noise and echo. These lighting fixtures are available in a variety of shapes, sizes, and colors to accommodate all types of functional and design needs. Acoustic lighting not only provides an abundance of soft light, but they can also take your design to another level with uniquely shaped options. For spaces with high ceilings, acoustic suspension lights pack multi-functions as they control noise levels, infuse a room with light, and help to define the space.
5. Sound Absorbing Furniture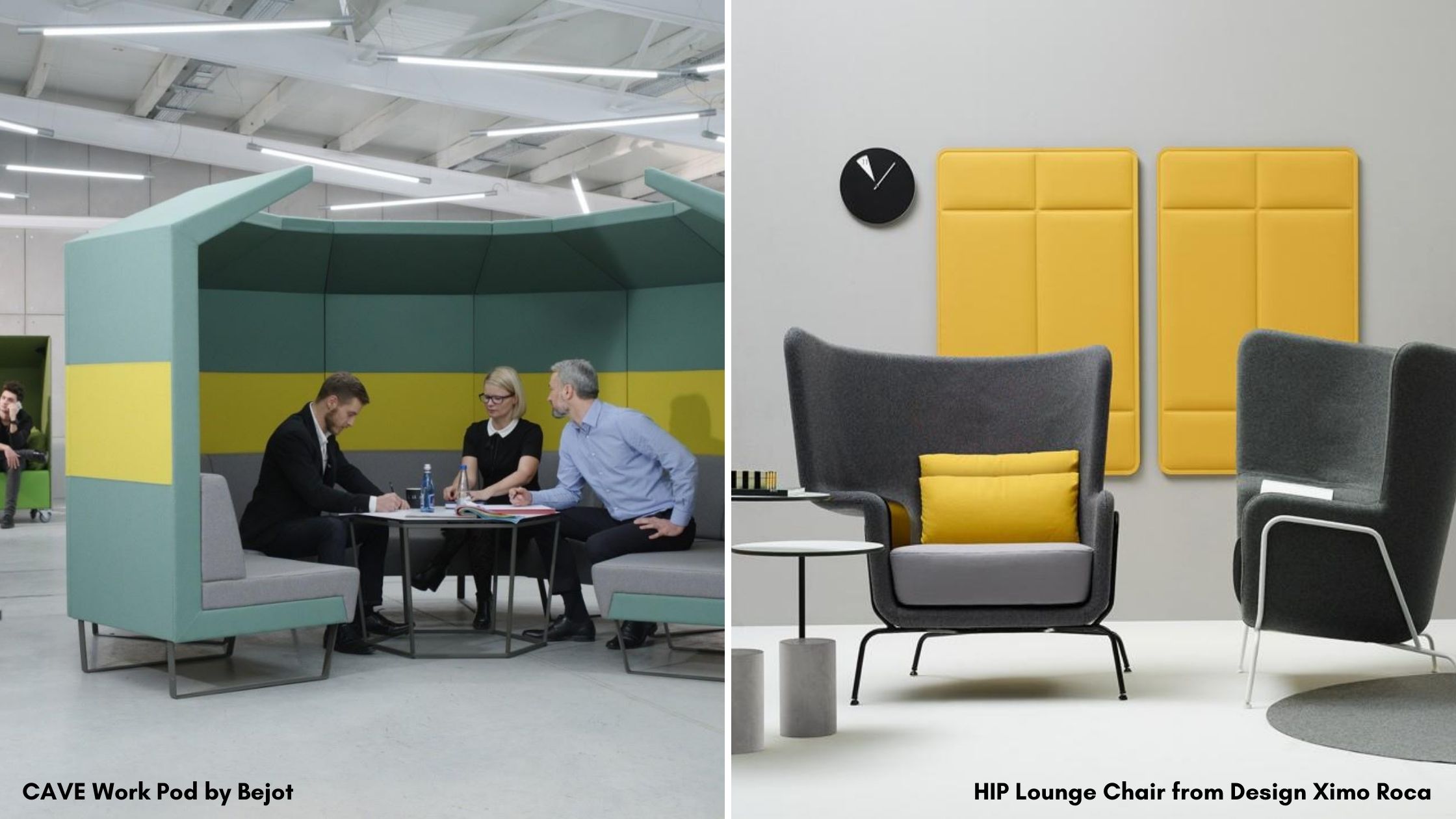 Photos of Bejot CAVE Work Pods and HIP Lounge Chair provided by MSL Interiors (with permission).
It's not just the construction of space that can affect noise; other elements that go unnoticed, like steel chair legs, can propagate noise disturbances, and hence require other acoustic elements in the space to counterbalance. Modular and movable furniture with sound absorbent material is an effective way to battle noise in your spaces while incorporating dynamic—and comfortable—furniture. Acoustic furniture goes beyond office chairs; ottomans, sofas, office caves, office dens, and sofa pods from suppliers like Urban Office and MSL Interiors are popping up throughout workplaces, schools, and libraries for their ability to not only control noise, but also to provide students and employees with customized, soft, and diverse settings to work in groups or solo.
6. Pods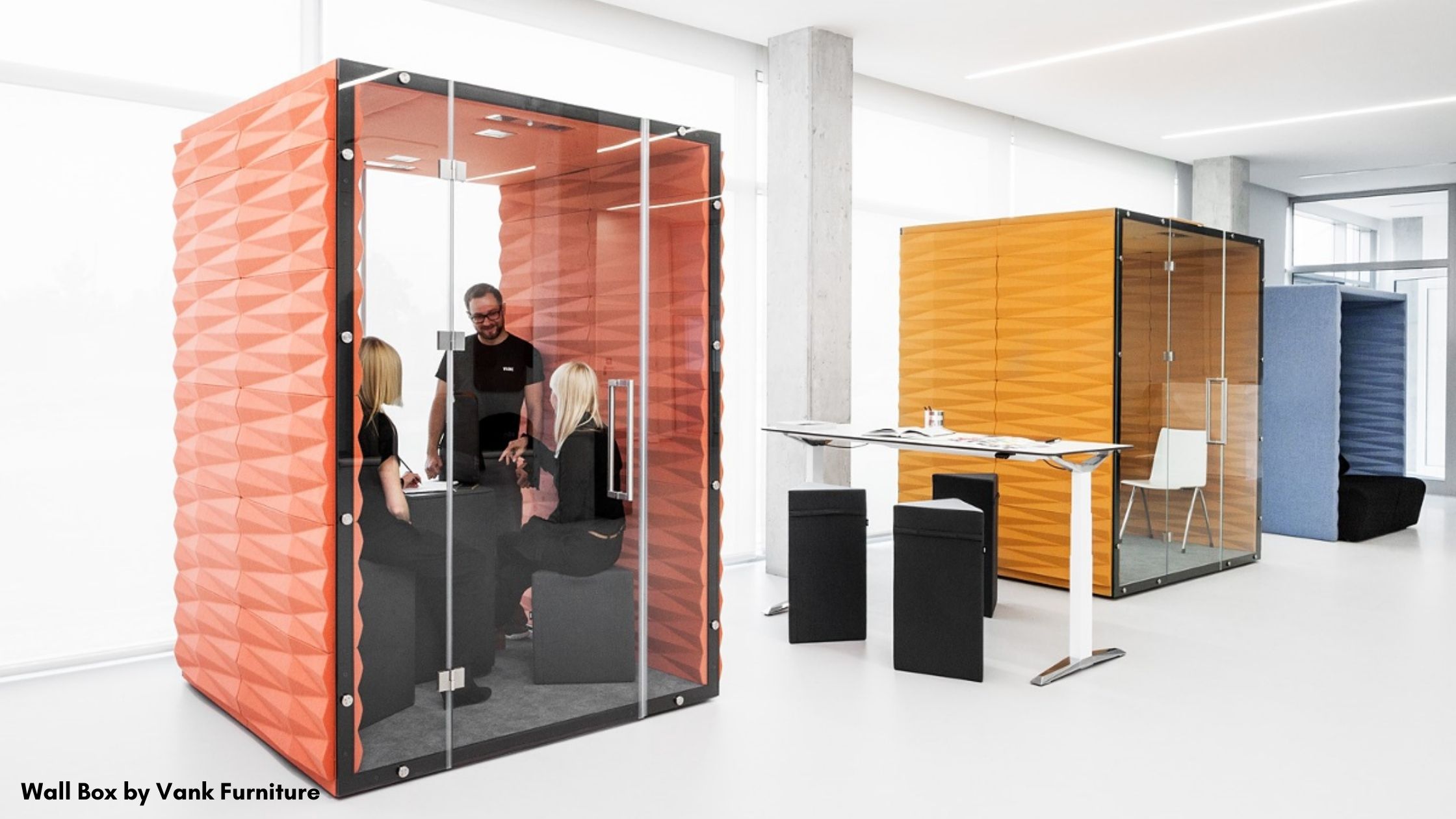 Photo of Vank Furniture Wall Box Acoustic Meeting Pod provided by MSL Interiors (with permission).
Pods are modular and customizable privacy booths used in flexible office spaces globally. Compared to office dens and caves, pods are entirely enclosed. On the surface, pods seem to only function in a response to accommodate individual workstyles in open concepts settings. Many pods, like ISland and Wall Box, feature integrated technology, soundproofing panels, insulation, and acoustical glass to keep distractions out and to prevent noise from escaping, making them ideal locations for individual work, phone calls, and small team meetings or brainstorming sessions.
Complete silence can be just as distracting as loud noise and travelling conversations. Pods don't cancel exterior noise completely; they ingeniously transform harsh noise into subtle white noise, so occupants inside the pod are not eerily cut-off from their surroundings, but are still able to focus.
8. Acoustic Separators & Screens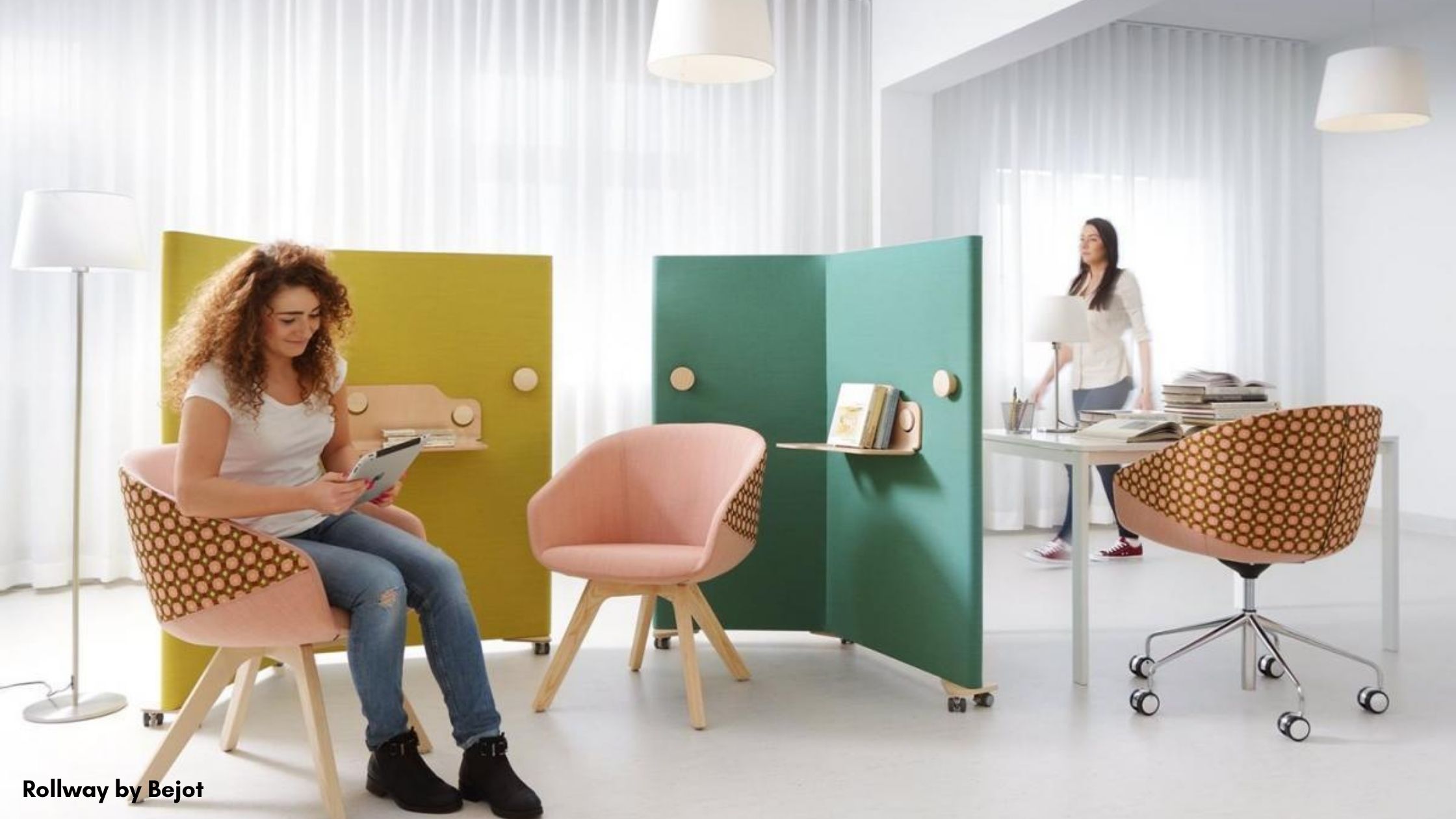 Photo of Bejot Rollway office partitions provided by MSL Interiors (with permission).
Whether it's in the form of screens on top of shared workstations or freestanding floor partitions, these acoustic solutions serve multiple functions in a flexible space: sound blocking and reduced reverberation, visual privacy, and space definition. These solutions—like those from TURF Design, Urban Office and MSL Interiors—are available in a variety of trendy styles, height, depth, and color options to fit your design and needs.
Acoustic Comfort is a Team Effort
Not one product can solve all the noise disturbances in an open space; to master architectural acoustics, it takes a combination of acoustic elements and smart building construction, but more on that later. As this list of innovative design elements demonstrates, acoustic solutions are often multi-functional, providing you and the occupants of the spaces you design with environments that are well-lit, flexible, beautifully designed, and of course, acoustically comfortable.
Article Banner: Photos of ZIPPO Acoustic Sofa by Pedrali & HIP Lounge Chair provided by MSL Interiors (with permission).
Published July 31, 2020